Interview with Andrew Joyce
Published 2016-07-02.
Note: These questions were originally asked by Lynne over at https://fictionophile.wordpress.com/2016/07/02/guest-post-interview-with-novelist-andrew-joyce/
Check her out. Her blog is sensational.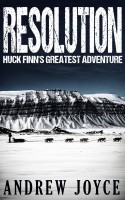 Resolution: Huck Finn's Greatest Adventure by Andrew Joyce
They had come to that neck of the woods seeking adventure. Someone should have warned them, "Be careful what you wish for." When disaster strikes, Huck and Molly volunteer to save the day by making an arduous six hundred mile journey by dog sled in the depths of a Yukon winter. They cannot stop. They cannot turn back. They can only go on. Lives hang in the balance—including theirs.